Quick Snacks To Take To The Park For Young Toddlers

My son loves going to the park. He is the man of action and never wastes time. He runs, goes up and down, climbs, slides and plays in the the fountain. All this action takes up a lot of energy. So, he needs to have a snack to avoid getting cranky. This snack needs to be portable, filling, and inexpensive (since it often ends up being lost or spilled). If your toddler is like mine, this list is for you. Here is some snack ideas for young toddlers (12-24 months), that have worked well for me and my little boy.
A majority of our snacks come from the local Walmart. They have a very good "baby/toddler" section there, are pretty inexpensive, and have good brand-names.
– Puffs: My son loves puffs especially the cheese flavored ones. One of our favorite varieties is Lil' Beanies from Gerber. It is the first bean-baked snack in the baby and toddler aisle. It is free of genetically modified ingredients (GMOs) and naturally flavored. There are two kinds of Lil' Beanies: Original and Lil' Beanies cheddar & broccoli flavor. Gerber Lil' Beanies is already a very inexpensive snack in comparison with other puffs. But, if you are price conscious, you can subtract another 75 cents with this rebate: https://ooh.li/f5c9cc5.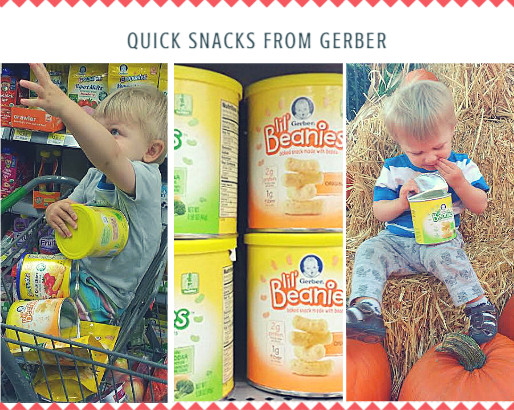 – Yogurt Melts: We also prefer Gerber's brand since they don't stick together like some others we have tried.
– Raisin or Craisins: We buy them in small individual boxes in Walmart. They are very convenient since they store well and our son loves opening and shutting the little boxes. I keep a box or two in mu purse and my husband keeps a box in his car, just in case.
– Freeze Dried Apples, Strawberries, and Blueberries Snacks: These are really good. I enjoy them as much as my son. However, they go really fast. So, if your family really likes them, I suggest that you buy dehydrator. Strangely, it is much cheaper than buying dehydrated fruit. It takes about 50 cents of electricity to dehydrate 5 trays full of different fruit over night. Here in California, the fruit is pretty cheap. So, DIY is a really good deal.
– Cut and Peeled Apples, Peaches, Pears: We usually plop them in zip locked sandwich bags before going out. They can get sticky, but they are more appetizing than dried-food on a hot and dry day.
– Whole Bananas: They don't travel as well as the other things on this list. But, you don't need to package or prepare them and our toddler gets a kick out of eating bananas.
– Berries (Strawberries, Raspberries, Blueberries, Blackberries, and Black and Red currants): I wash.prepare them ahead of time and put them in one of those cheap reusable plastic seal-able containers.
– Grapes: Everyone loves grapes. Bring some to share in case you run into friends at the park.
– Apple Sauce in Pouches:. Once my son learned to carefully squeeze things out of pouches into his mouth (instead of onto his shirt), these became very handy.
– Cut Cumbers or Carrots: My son doesn't like to eat his veggies at home. But, when he is hungry and in a hurry to get back to playing, he is not a picky.
– Cereal Bars: If your purse is already pretty heavy, cereal bars are a good calorie-loaded, but light weight snack to carry. They are shelf-stable, too. So, you can store one for longer than the fresh snacks on this list.
– Various Nuts: Walnuts are my son's favorite. But, most nuts are energy packed and easy to transport.
– String Cheese: My son doesn't peal the string-cheese. He just chomps it and chews. But, he enjoys the experience, none the less.
Please, let us know what is your toddler's favorite quick snacks?
Posted on September 29, 2016 then Updated July 4, 2017By Sweetie