Netflix vs. Amazon Prime vs. Google Play (Movie Offerings)
A few years ago if you wanted to watch a movie from the internet you were forced to engage in piracy or watch some art-house flick that was never widely viewed. Today, however, there are so many choices for viewing that it can be hard to decide which one to use. This decision is made worse by the fact that some of these choices require a commitment in the form of a monthly subscription fee. So, to help you decide, I have compared the movie offerings of Netflix, Amazon Prime Instant Video, and Google Play.
Streaming Services
Amazon Prime Free Streaming

If you are a paying member of Amazon's "Prime" program you can get access to some of their streaming-videos for free. Amazon Prime is renewed yearly for $99 and is best known for its free-shipping feature. (More Details
)
Amazon Streaming Purchase

Amazon offers a selection of videos for purchase in both High and Standard Definition. The HD version is typically a similar prices to a DVD ($10-$20) of the same title and the SD version is a couple dollars less. In additional to streaming you can also download the video to up-to-two devices. (More Details
)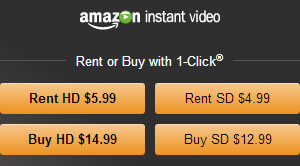 Amazon Streaming Rental

Amazon offers the option to rent many videos. You can see the terms of the rental by scrolling down to the "Rental rights" part of the page and clicking "Details". Typically you have between 15 and 30 days to start watching your rental and then anywhere from 24-hours to one-week before the video is removed from your account. (More Details
)
Google Play Purchase
Google offers a service called Google Play that can be used to buy Android Apps, books, music, and video content. You can typically purchase a movie for about the same cost as you could a DVD of the same film. Purchased videos can be downloaded to your Android Device with a single click for viewing on airplanes and other venues where bandwidth is hard to come by.
Google Play Streaming Rental
Google Play also offers videos for rental. Like Amazon the terms vary from film to film but typically require you to start watching within a month and finish within 24 or 48 hours of starting. You can check the terms by scrolling down to the "Rental period" part of the film's page. Rentals on Google Play typically cost between $2.99 and $4.99 with the occasional 99-cent deal.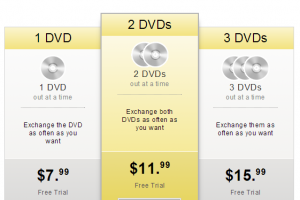 Netflix DVD
While Netflix has been trying to move away from their DVD service, it still has a huge collection of content including hard-to-find older videos that are not on the major streaming services. While Netflix DVD does not typically have DVD's the moment they are available in stores and often has the "rental version" of the DVD instead of the retail version, their prices are still very reasonable. You decide to have between one and three DVD's at home at a time then when you send one back you get the next one off your Queue. Prices range from $7.99/month to $15.99/month and include fast shipping of discs both directions.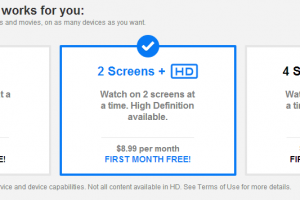 Netflix Streaming
Netflix is likely the most popular video stream service. Their Streaming Services start at $7.99/month and for $11.99/month you can see videos in HD and watch up to 4 things at once. Netflix streaming videos can be viewed on a large number of devices including TV's, Personal Computers, Game Consoles, Android Devices, and Apple Devices.


Methodology
To compare movie offerings I took a list of the 240 Movies released in 2013 that were both widely-viewed (had 5000+ user ratings on IMDB) and were not terrible (had at least a 5.0 average for those ratings). Then, in the middle of June 2014, I looked for each of those movies on the major streaming services to see if it was available.
Results
| | |
| --- | --- |
| Amazon Prime Free Streaming: | 5.4% of movies available |
| Netflix Streaming: | 30.0% of movies available |
| Amazon Streaming Rental: | 47.9% of movies available |
| Google Play Streaming Rental: | 48.8% of movies available |
| Amazon Streaming Purchase: | 82.5% of movies available |
| Netflix DVD: | 83.3% of movies available |
| Google Play Purchase: | 84.1% of movies available |
Analysis
* Netflix dominates in subscription-streaming. Only two movies were on Amazon Prime Streaming and not also on Netflix Streaming (The Bling Ring and The Spectacular Now). The other 97% of subscription-streaming were on both services or (in 82.4% of the time) on Netflix only.
* 87.9% of the movies are available for immediate-viewing (streaming from a subscription service or purchase). I ran this same analysis on a popular "movie sharing" site and the number was actually less (86.7%). So, the "I had to pirate it because it wasn't available legally" excuse doesn't seem to hold up for year-old movies.
* 85.8% of the movies are available for long-term purchase (on Amazon or Google). I'm not sure if any of these "for purchase" movies have ever been revoked from one of these cloud-services. But, presumably, this almost never happens in comparison to the frequency of streaming-contract expiration.
* Google hates Sex and Amazon hates India. Just kidding. But, Amazon and Google's rent/buy offerings are very similar except that Google has several Bollywood films that Amazon does not and Amazon has several films containing "strong sexual content" that Google does not.
* Of the 10.8% of films that are not available from any of the services, most are indie-films or international films. The international films are easy to explain because I am based in the U.S. and there may be region-filtering or even release-date differences that make these movies unavailable to me. I assume the indie films are missing because they have trouble making deals with big companies like Amazon, Google, or Netflix.
Conclusion
If you are going to buy only one subscription movie-service you should select Netflix over Amazon Prime. There are a great deal more movies on Netflix and the Amazon phone-app has terrible reviews. Also, Amazon will not let you watch two videos at once or even watch the same video on two different devices without waiting for several minutes between when you stop watching on one device and start on another. Amazon may be a better value per-month. But, considering both Amazon and Netflix cost less than a single movie ticket costs per-month, I think price should not be the deciding factor.
However, I would suggest that you get both Amazon and Netflix if you are movie-fan. The combined price is still very small and having both services means that you get the greatest possible quantity of videos.
Disclosure
The Geek is an Amazon Associate and his brother works at Amazon. He has friends that work for Google (although not on the Play team) and also friends who work for Netflix.
Posted on June 23, 2014 then Updated July 5, 2017By Geek