Art and Craft Supplies Ideas for Toddlers
Here is the list of art and craft supplies we have used to develop our toddler's motor skills and creativity. Some of these are pretty easy for toddlers to master and some are more challenging. Thus, I have sorted them by difficulty based on the experience with my little guy. I started the list with the art and craft supplies that are appropriate for 11-12 month olds and have been gradually updating the list as my son grows and we find new projects and tools he can do.
1.My First Crayola Markers
The first "art project" for any toddler is drawing scribbles on plain white (or recycled brown) paper. This can be done as early as at 11 months. Based on my experience I would recommend you start with "My First Crayola Character Markers". They are made specifically for the size and shape of a young toddler's little hand. My son tried them using couple times and draw these amazing scribbles, you can see on the picture below. It was much easier for him to start with "My First Crayola Markers" than with regular markers.
Here is my son's first art: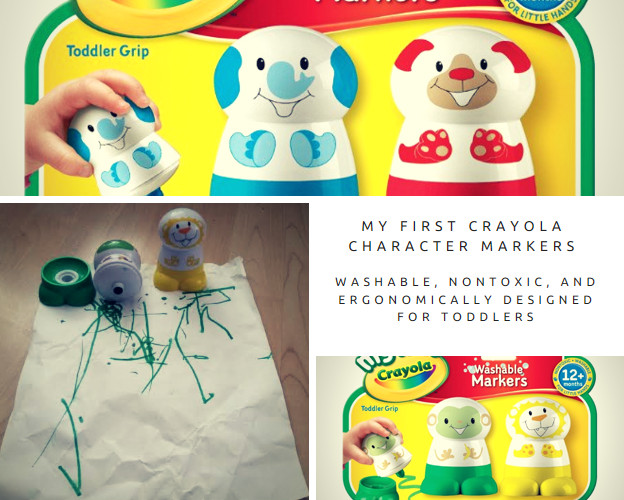 2.Crayola Palm Grip Crayons
You can also try my first Crayola Palm Grip Crayons; easy-grip, egg-shaped crayons designed for toddlers' early art. They are also good for young toddlers but a little less fun in comparison with My First Crayola Character Markers.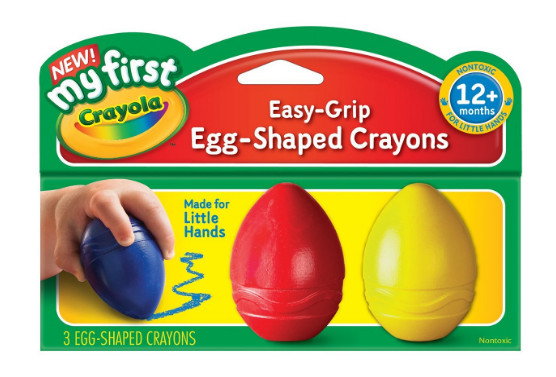 3.Crayola Washable Kid's Paints
12 months is also a great age to start doing finger painting. We used Crayola Washable Kid's Paints. These paints are easily washable and non-toxic. Even though the Crayola kid's paints are non-toxic I still recommend to do finger painting through plastic wrapper for the younger kids who still suck their fingers. The taste of the paint is unappetizing. We eventually switched to a thumb-width brush at about 17 months.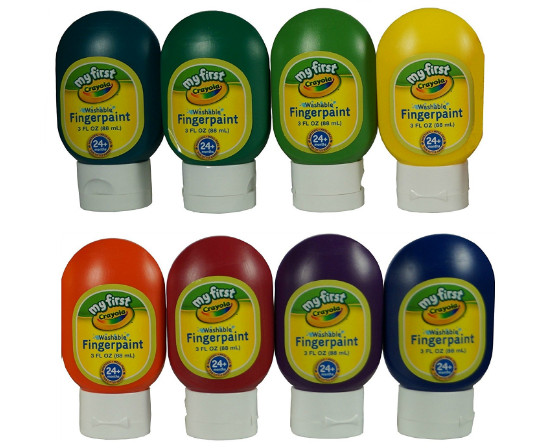 4. 100 Colors Super Markers Set
We also had a lot of luck with "Super Markers" set from US Art Supply. It includes the pallet of 100 colors markers. My son loves trying the variety of colors and he also liked taking the markets in out out of the storage box. He takes each marker from the box draws a circle and sticks it back. As you master scribbles, you can start practicing circles with your toddler. My son started to draw circles at about 17 months. These markers also helped my toddler to learn more names of the colors such as "pink", ""purple", "orange".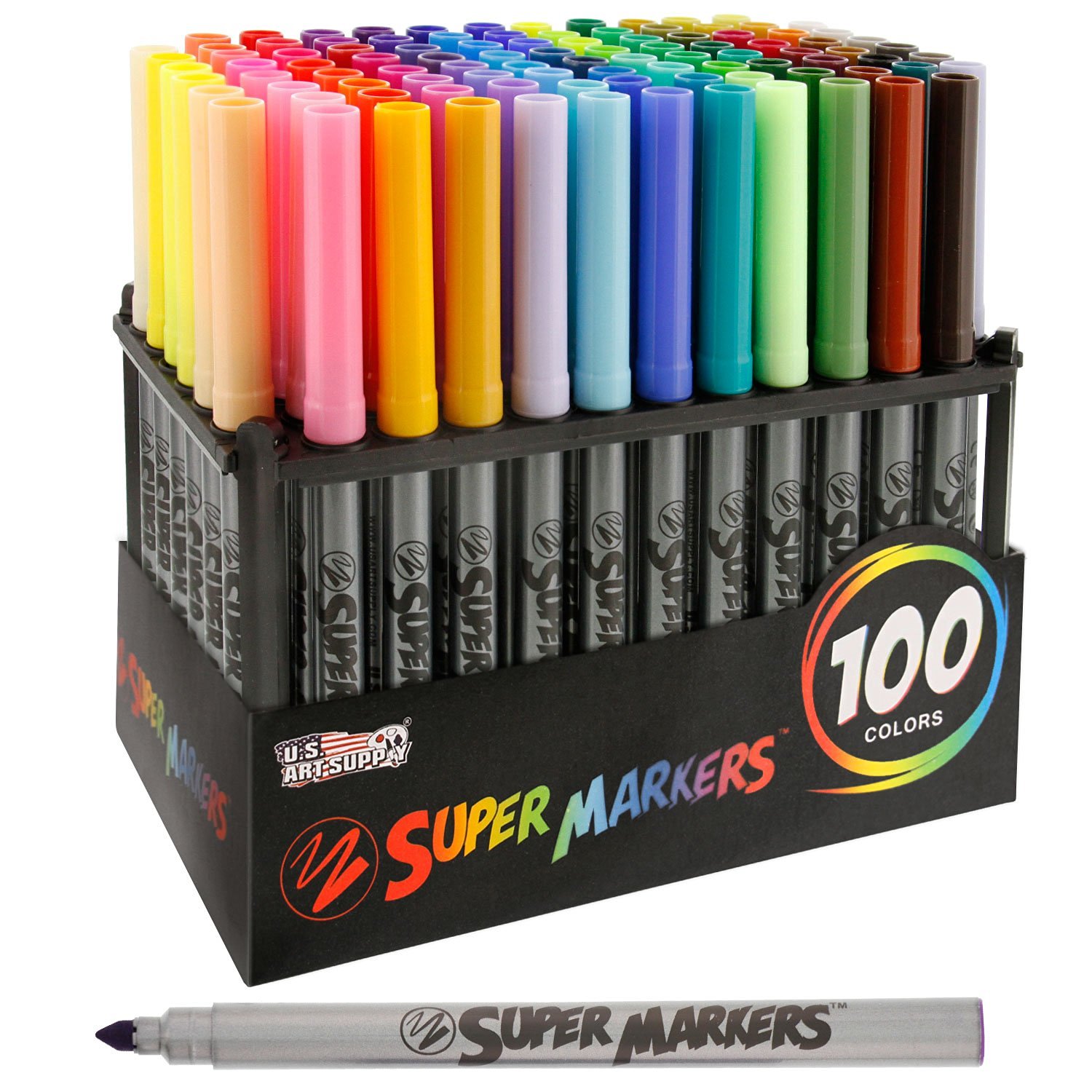 5.Pencils
We introduced my son to pencils at about 19 months. Pencils are thinner and less forgiving than markers. So, it took him some time to learn how them and make marks. His pencil grip was pretty good by 21 months. It is also better to use shorter pencils to teach toddlers to hold them since the tips get broken if you hold the pencil too far from the end. We used the "Water Soluble Color Pencil Pack of 36 colors" from Amazrock. These are not the shortest. But, they do have an easy-too-hold hexagonal shape which allows you to color with comfort and precision. Such pencils are preferred by Kindergarten Teachers for their ergonomic qualities.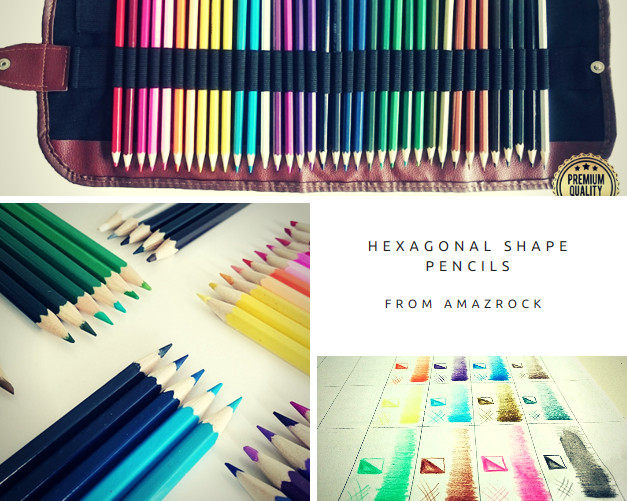 6.Dot Markers
I also recommend to try dot markers or daubers. We have Washable Daubers Markers from US Art Supply which my son loves. They are less messy than any other dot markers we tried. US ART Supply brand was a really good discovery for me; they make a lot of good quality art supplies for younger and older kids. You can check their art supplies products here. You can get a lot of free dot art printables and activities on this site: http://www.cameronfrankproducts.com/free-activity-books.html. Dot art is not easy for young toddlers and it will need some practice before they can master it but you can start trying when your toddler is around 19 or 20 months old.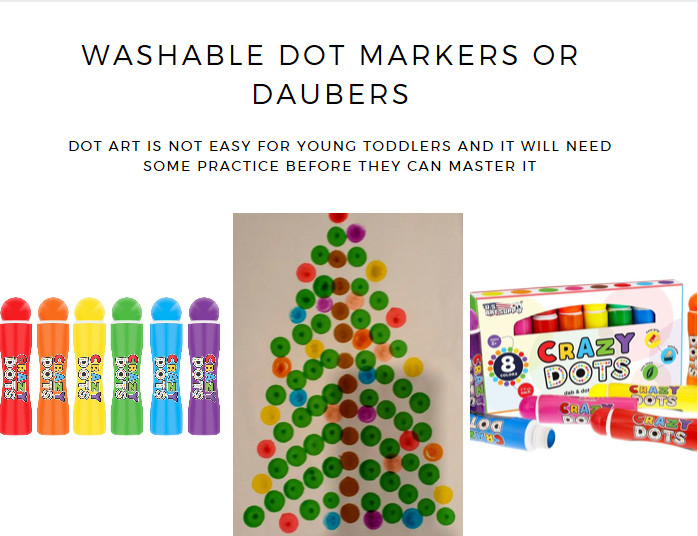 7.Sticker Art
As the kids reach 16-17 months they will be interested in stickers. My son loves to decorate his clothes with stickers. There are also great sticker art sets for young toddlers from Alex Toys. I would recommend to start with ALEX Jr Tot Art Start. They introduce 17-18 month old toddlers to sticker decorating activities. You can see in the picture below what my son decorated a tree and a giraffe with stickers. He also added some round stickers and attached ribbons to them (with mama's help), so they look like balloons.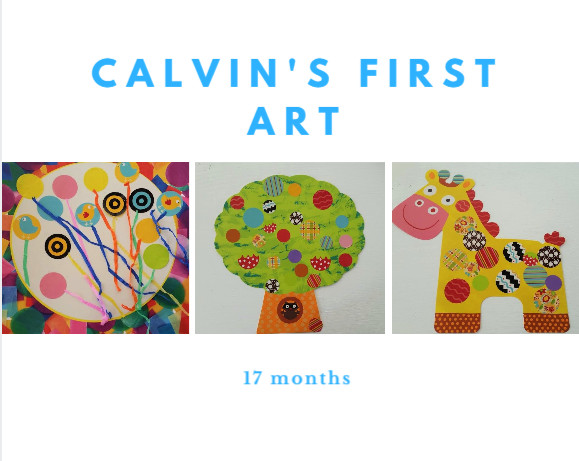 As your toddler masters the ALEX Jr Tots Art Start activity you can also try another sticker activity set that is called Alex Jr. Tots Sticker Pictures. It is a little bit more complicated and might need a little bit more "placement" skills from the toddler. This set includes 6 themed boards an 6 sheets of paper.
You can see the pictures my toddler created with Alex Jr. Tots Sticker Pictures below (that is his 18-19 months sticker art creations):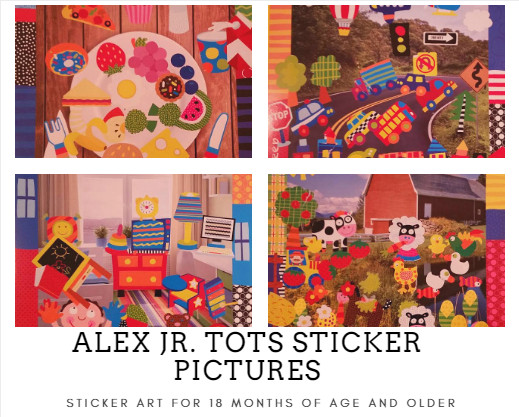 As you already understood by now, we are sticker experts. My son wants to play with stickers daily. In fact, all toddlers, preschoolers, and kindergartners seem to be big fans of stickers. So if you want to keep your toddler occupied with creative activity stickers are a perfect option.
Here is some other sticker kits we love:
Melissa & Doug Make a Meal Sticker Kit
My toddler loves to decorate plates with different food. This Melissa & Doug Make a Meal Sticker Kit helped him to learn names of different kinds of food. We used these sticker sheets during a couple play-dates. There are a lot of pages, but they go fast. These sheets are pretty big, but they are worth carrying along for an airplane trip, too, because they are very engrossing.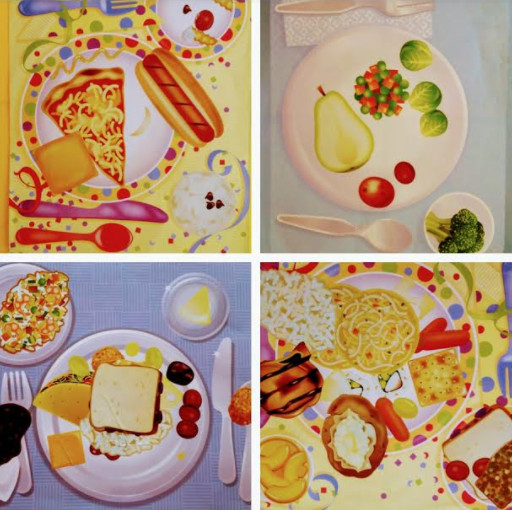 Melissa & Doug Sweets and Treats Sticker Pad
Your toddler might be also interested in decorating a cake, cupcakes, donuts, and ice-cream. Try Sweets and Treats Sticker Pad from Melissa & Doug. We had a lot of fun with this project too.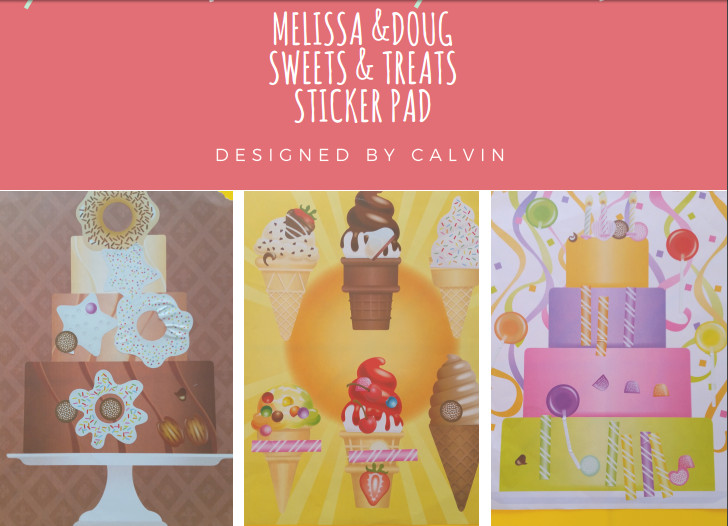 Melissa & Doug Reusable Stickers
These Melissa & Doug Reusable Sticker Pads Set: Vehicles and Habitats, 315+ Stickers and 10 Scenes are great because they are reusable and can be stuck on things other than paper without damaging them. You need a smooth surface (like the glossy paper they come with or a window). But, they are great for when you run out of more permanent stickers. I also bought couple of them as Birthday gifts and they were always hits.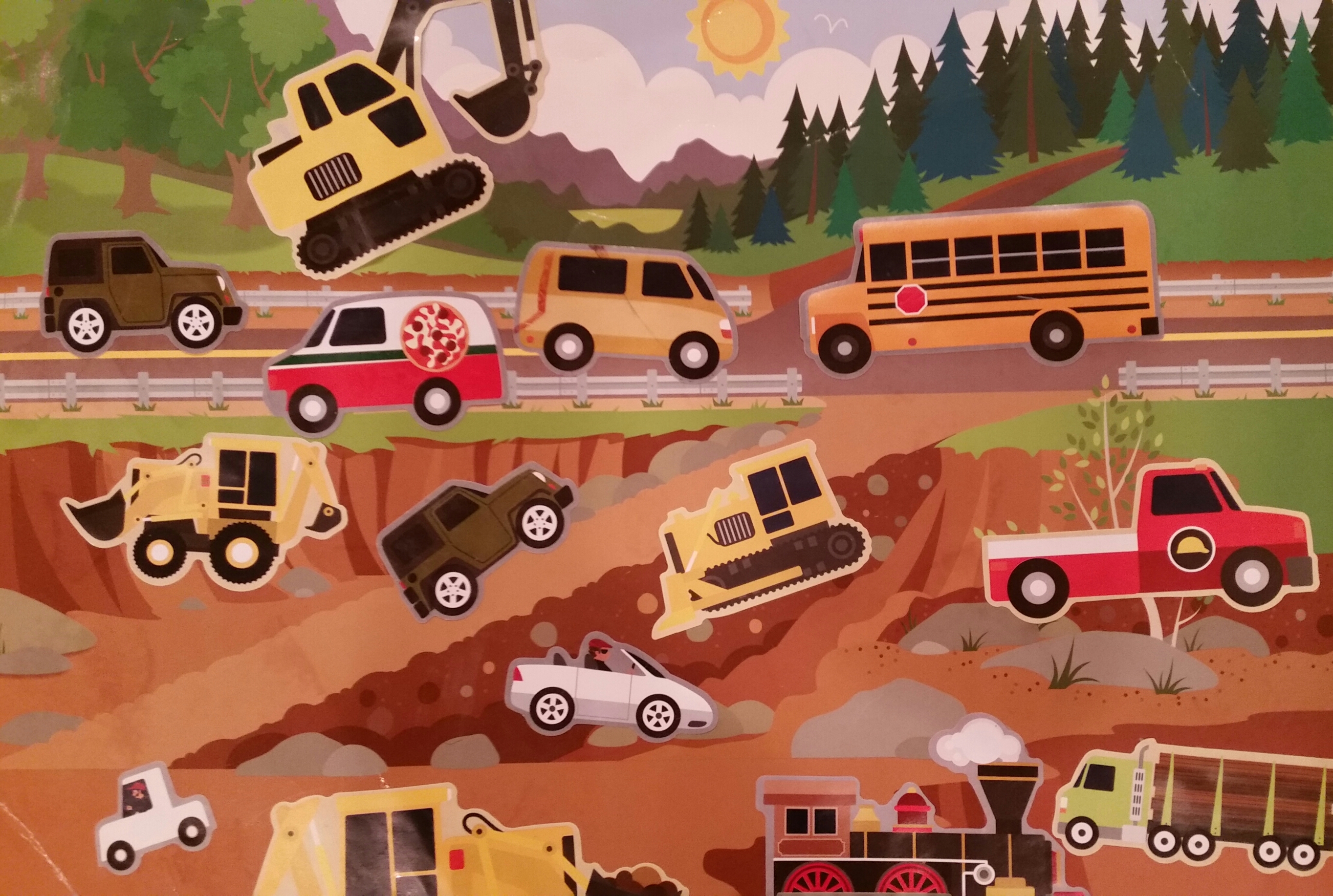 8.Googly Eyes
You can develop your toddler's creativity with pretty inexpensive craft supplies. If you have some construction paper, you can do some great art projects with a pack of assorted "googly eyes". We used Variety Value Pack SANC Googly eyes, purchased through Amazon. These eyes are adhesive, so you don't need glue to attach them. This pack includes the a great number of different shapes and sizes of plastic Googly eyes. The quantity and diversity are both sufficient to do quite a few projects. The SANC Googly eyes come in a plastic box that can be closed securely with hinged lid and snap closure.
For the construction paper we used our favorite construction paper pad from Melissa & Doug. The paper in this pad is high quality and thick. Any cheap paper could be used, but it's nice to have something thicker when making a project that will be played with upon completion.
Our first Googly eyes project was to create each of our toddler's favorite animals and insects out of paper. Baba (Baby's Russian Grandma) and I cut out circles. My son then stuck the circles together (we used glue, but tape would work, too). Then, he had fun sticking the googly eyes on where I pointed.
You do not to be very crafty for this project. The only skill you need to know is how cut circles out of construction paper. The internet has a ton of examples, if you are not sure how to make a specific animal that your child likes. We did a lady bug, a bumble bee, a rabbit, a polar bear, and a duck.
Here is our project. Easy, cute, and fun to play with.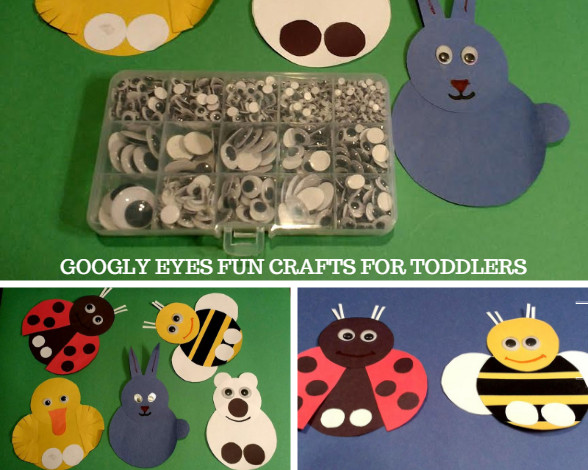 Please, let us know what art and craft supplies do you use to develop your toddlers' creativity.
Other Bloggers Art and Craft Ideas For Toddlers
Sensory Water Activities for Toddlers from Play Inspired Mum.
Creative Bath Activities for Toddlers from Whimsy Roo
Posted on January 4, 2017 then Updated January 13, 2019By Sweetie