Where to Stay in Cabo
Cabo is a perfect vacation destination, especially for residents of The West Coast- only a couple of hours of flying and you are in sunny Mexico. I decided to write some reviews of the hotels in Cabo where I have recently stayed. I hope my experience will help you decide where to stay in Cabo.
Barcelo Grand Faro Los Cabos Review
Barcelo Grand Faro Los Cabos is conveniently located on the beach in San Jose Del Cabo. It belongs to a European company Barcelo Group.
I had a little problem with Barcelo Grand Faro at the beginning of my vacation. I reserved a shuttle through the hotel to meet me in the airport;however, they forgot about me and came to pick me up one hour late. Of course, I had already taken another taxi by that time. As I arrived at the hotel, I found out that Barcelo Grand Faro does not actually provide the shuttle service. They use a vendor that apparently was not very reliable. The shuttle company still insisted on payment even though they did not meet me on time at the airport. Fortunately, the Barcello Grand Faro manager helped me to resolve this problem and the shuttle company did not contact me again.
The rooms in Barcelo Grand Faro Los Cabos are very simple but the beds are very comfortable. My room was facing a construction site but it was not a problem for me since it was quiet at night and I was not in the room during the day.
The Barcelo Grand Faro Los Cabos cuisine is great. Five stars for the food! They have two restaurants that serve food buffet style, a Mexican cuisine restaurant, an Italian restaurant, and a sushi restaurant. Everything is included and unlimited! The Barcelo Grand Faro buffets are amazing, they serve pretty good, quality food for any taste – seafood, crabs, steaks, salad bars, delicious Mexican and European food, fruit and a great selection of deserts. You will have to make reservations for the Mexican, Italian and sushi restaurants; however, availability was never a problem while I was there. The Sushi restaurant was not super good but the portions were very generous. All drinks are unlimited; they can make you whatever you want, you name it.
Barcelo Grand Faro Los Cabos' location is pretty good. It is within walking distance of the dolphinarium; so if you like to swim with dolphins they are just 5 minutes away from Barcelo Grand Faro. It is also close to the Supermarket and Starbucks, and next to such famous bars as "Rock and Brews". There is a bike rental place just across from the hotel as well.
See my photos of Barcelo Grand Faro Los Cabos:
Barcelo Grand Faro Los Cabos aqua aerobics in the swimming pool.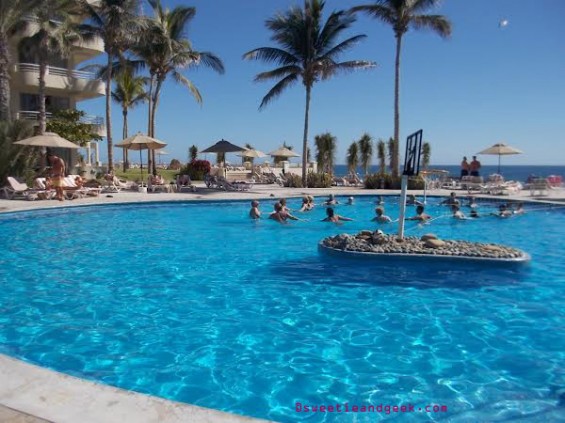 New Year at Barcelo Grand Faro.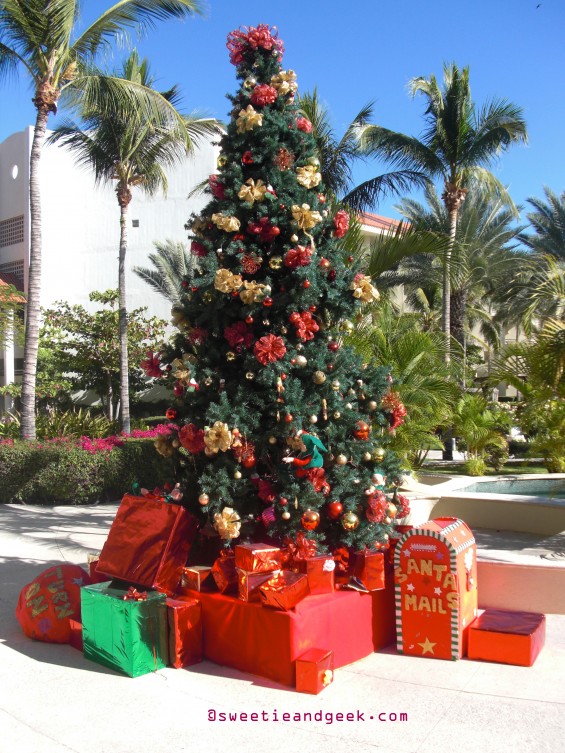 Deserts at Barcelo Grand Faro.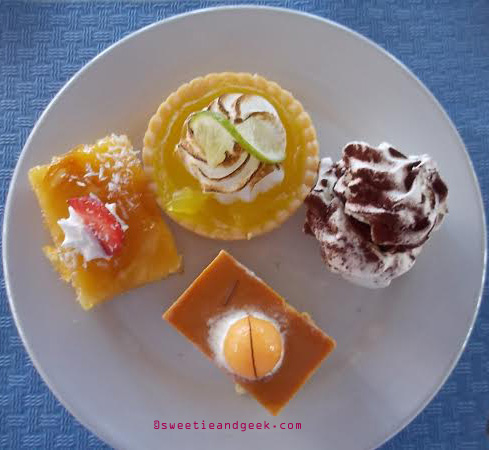 Beach at Barcelo Grand Faro, winter time.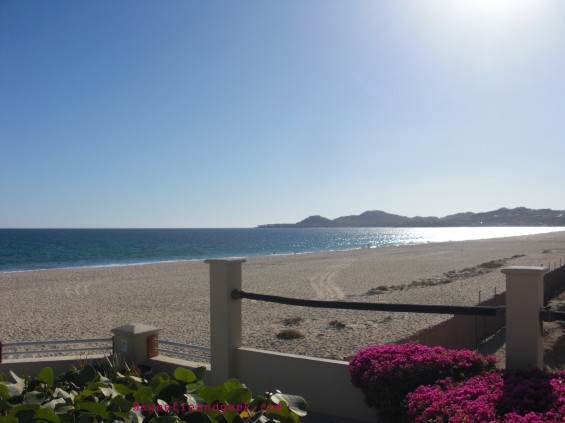 Villa La Estancia Cabo San Lucas Review
Villa La Estancia is another good place where you can stay in Cabo. It is a new resort designed in elegant Spanish colonial style. The resort is located on a gorgeous beach with views of the famous Arch.
This resort is situated between its two sister properties-Villa del Palmar and Villa del Arco; and patrons can use restaurants or take part in activities in any of these three resorts.
Our room was very modern and stylish. Each Villa at La Estancia is split into 2 units. The "A" side consists of a living room, kitchen, and master bedroom, while the "B" side has a bedroom. A & B sides share a huge balcony. We rented side "B" with just a bedroom and bathroom; our side A was vacant. They usually do not rent A & B sides to different people at the same time.
When we were reserving the room at Villa La Estancia via Expedia, it was claimed that the resort provided high speed internet. However, we could only access our internet on the balcony and in the lobby. Also, it was a little bit slow. However, the internet is like this in almost all hotels and resorts in Cabo.
We thought we bought an all-inclusive package but it turned out not very inclusive. We had to pay more to get an all-inclusive package in the resort. We tried it one day and cancelled, it was not worth it. The food was nothing special, very simple. They have a breakfast buffet in the morning and sometimes buffets in the evening. The only restaurant we liked was La Casona. They had a more interesting menu: seafood, steak, tuna. We decided to pay per meal at Villa La Estancia or eat outside, it actually was cheaper than the "all inclusive package" Villa La Estancia was selling. However, that might not have been the case if we were heavier drinkers.
The resort has an Expedia kiosk, so it was pretty easy to reserve activities on site.
Overall, we had fun at Villa La Estancia, I wish they had better food options though.
Here is our photos from Villa La Estancia.
Villa La Estancia's Views: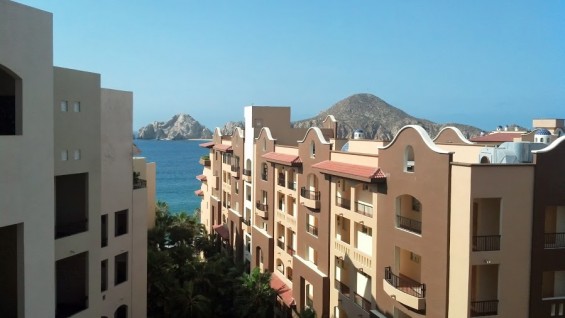 Villa La Estancia, La Casona Restaurant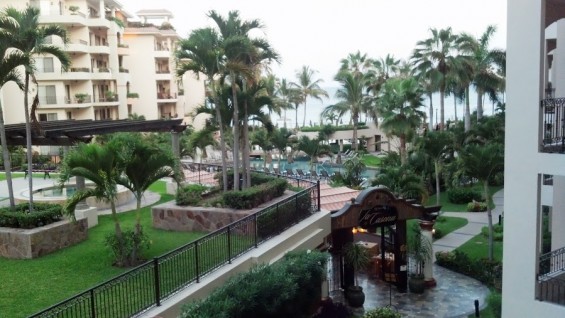 Balcony at Villa La Estancia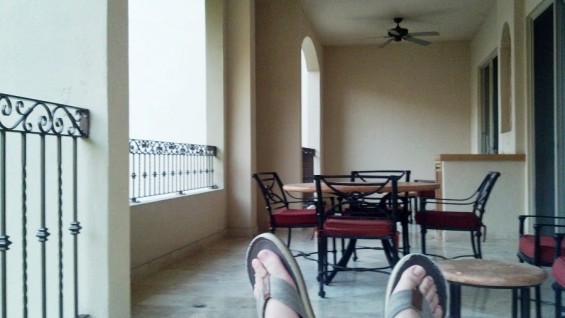 Villa del Arco – Villa La Estancia's sister property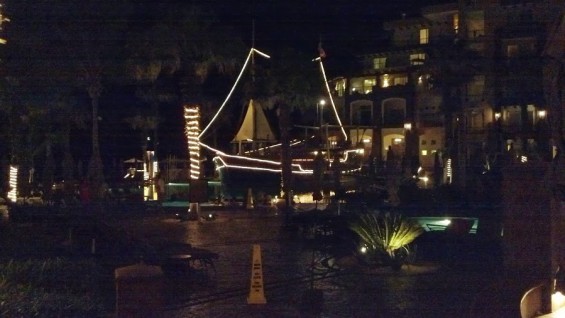 Posted on March 12, 2014 then Updated July 5, 2017By Sweetie