What to do at California's Great America?
My family lives practically next door to California's Great America (located in Santa Clara) so we can go there pretty often. I thought I would share what we know about this amusement park. Additionally, we recently visited California's Great America's Parenting Bloggers Conference where we learned all about current and upcoming events and attractions in the park. So if you are planning to visit California's Great America any time soon, I think this post will be useful for you.
Great America Tickets
I know many of you are searching for discounted California great America tickets. The best way to save money on Great America's tickets is to buy a season pass. At less than $70 per person, it pays itself after just 2 visits. If you are just passing through, you might want to try a Weekday Saver Ticket (valid only on weekdays) which costs about $40 or an After 4pm ticket (typically less than $35). There are also discounts for Active Duty and Veteran Military Personnel. You do not need to buy a ticket in Great America for kids until 3 years of age.
Even if you buy a full-price single-day pass, Great America is still a great deal. This is because your ticket grants you access to two types of parks on the same sprawling grounds. There is the traditional amusement park with roller coasters, games, shopping, food, and shows. Then there is the water park with slides, lazy-river, raft-rides, and a zero-depth lagoon. The water park also has a multi-level "water fortress" with bridges, tunnels, and water spraying and splashing around every turn. If you just want to relax while the kids splash in the lagoon, there are a great many beach chairs to sun bathe in.
Get More Fun at Great America Park
In hot weekend days, the park is a pretty popular attraction (especially the water park). However, there is a pretty obvious and easy trick to avoiding lines and crowds. Just go in the late afternoon on a weekday. This is after clubs, parties, and youth groups have left for the day, but before the after-work locals come round. Through the middle of August, the amusement park is open until 10pm and the water park is open until 6pm on weekdays. So, there is plenty of time to play, even if you show up at 5pm. One employee described the experience at that time of day as "having the attractions all to yourself."
Showing up at non-traditional hours is not the only way to avoid lines at Great America, though. There's a highly-effective program to skip lines on all the rides. The program is called Fast Lane and people who buy a one-day fast lane pass get a bracelet that lets them enter rides and attractions via a separate entrance that (in our experience) has almost no line. The reason this program works like magic is that the cost, at first glance, seems pretty high. A Fast Lane pass will run you about $50/person in addition to your ticket price. Even when purchased as a package deal the cost of the ticket + Fast Lane pass is almost double the cost of a ticket by itself.
We were pretty appalled by the price, at first. But, after trying the program once, it actually makes sense. The problem with the price is that it seems high in comparison to a ticket without a Fast Lane. But, if you think about the time savings, instead, it starts to make sense. We estimated that we saved at least a couple hours of total line-waiting time. So, if you value your time at more than $25/hour you are already winning. However, it gets even better when you consider the ratio of boring line-waiting time to fun riding-rides time. We were able to get on rides almost as fast as we could walk between the exit and entrance. So instead of spending 10 minutes in line for every minute of time on the ride, we were spending just a couple minutes. The fun to waiting ratio goes from 1:10 to 1:2. It's like someone sold you a 5x-more-fun pass.
Here is the thrill rides and family attractions in Great America I recommend you to try:
Gold Striker is the tallest and fastest wooden coaster in the Northern California
Flight Deck is steel inverted roller coaster
Drop Tower: Scream Zone is one of the tallest and most intense free-fall rides in the world.
Columbia Carousel is a beautiful, romantic, double decked carousel. Perfect for a date or to take the kids after a long day walking through the park.
Mass Effect: New Earth is a new attraction. It opened this year (2016). It is also a new kind of attraction merging live action, 3D graphics and practical effects to give you an immersive experience that Great America calls "4D"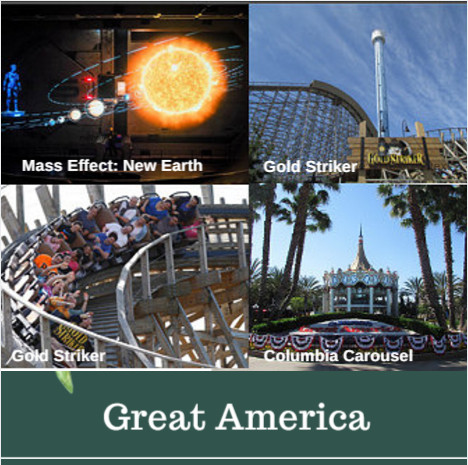 Things to See in California Great America
California Great America has made major investments recently and has plans to do much more in the near future. One of these investments has been to bring new entertainment and events into the park every season. Here is the list of events you will enjoy.
AcroFlyte. is a new Great America's acrobatic show. AcroFlyte show runs five days a week from Wednesday to Sunday.
Summer Concerts including famous bands and DJ's. Two from this season where Fifth Harmony and Chainsmokers.
July 4th Fireworks are not to be missed.
Taste of Orleans at the end of July includes New Orleans Cajun food, music, and culture.
Fiesta Hispana is a festival in August that includes food and traditional live Hispanic music such as mariachi.
Snoopy's Birthday Party takes place in August. Bring your kids and celebrate Snoopy's Birthday with coloring stations, photos, party favors, a giant birthday card, and (of course) Snoopy's favorite snack – cookies!
Guest Appreciation Day happens in both August and September. Great America will sell $1 hot dogs and cotton candy. Season Pass holders can bring up to 6 guests for (about half price) $17.99 each.
Great Pumpkin Festival happens in October (of course). Come to have fun and get awesome pictures with your kids and the peanuts gang.
The Halloween Haunt starts all the way in September and runs through Halloween. The Haunt convenes Friday, Saturday, and Sunday and terrify its guests from 7pm to midnight. Find a babysitter, because this Great America's event is only for guests aged 13 and older. Great America's Halloween Haunt has 10 mazes and attraction filled with 100s of monsters across 3 "scare zones."
Winterfest takes place in December. Some of you may remember Global Winter Wonderland. It was run by by the city of Santa Clara at the Great America location. This year, Great America is taking over operation and will be expanding it to cover all of the park and have many new attractions. There will be ice skating in front of the carousel, live holiday shows, a 60ft tall tree with nightly lighting, Santa's workshops, baking with Mrs. Claus, and even live reindeer.
Restaurants Near Great America Park
If you are hungry or need some rest from having too much fun in Great America, you can get a stamp in the park; so you can return after your dinner or a nap is over. Here the list of the restaurants not far from the park that we like:
Mexicali Grill is a very good Mexican restaurant with unlimited salsa and chips. They have big portions and an awesome guacamole that they will prepare in front of you.
Sizzler is an inexpensive restaurant with meat, fish, and vegetarian options.
Agape Grill is a inexpensive Greek family restaurant. It works late and has inside and outside sitting options.
Posted on July 25, 2016 then Updated July 4, 2017By Sweetie