Best Bakery Cafes in The Bay Area
My husband and I love desserts, so I decided to share some of our favorite bakeries cafes in the Bay Area.
Café Venetia in Palo Alto
What I like: Café Venetia is a cozy Italian café in downtown of Palo Alto. The two guys running this place are Italians. They prepare great coffee, tea, and the best hot chocolate in the area. My favorite chocolate drinks are Mousse al Cioccolato and Cioccolata Fondente. They also serve great sandwiches like organic chicken pesto Panini (for $6.50) and 12oz French Press Signature (for brew $4). They have very good deserts too; you should try the caramel chocolate tart and chocolate hazelnut cake. These deserts are a great treat but a little bit pricy at $6-$7 a piece
The Downside: A lot of people come here to study. They occupy the tables forever; as a result, it is hard to find a place to sit.
Café Venetia Address: 419 University Ave, Palo Alto, CA 94301
Phone Number: (650) 323-3600
Café Venetia Business Hours:
Monday-Thursday: 7:00am-11:00am
Friday- Saturday: 7:00am-12:00 am
Sunday: 8:00am-11:00am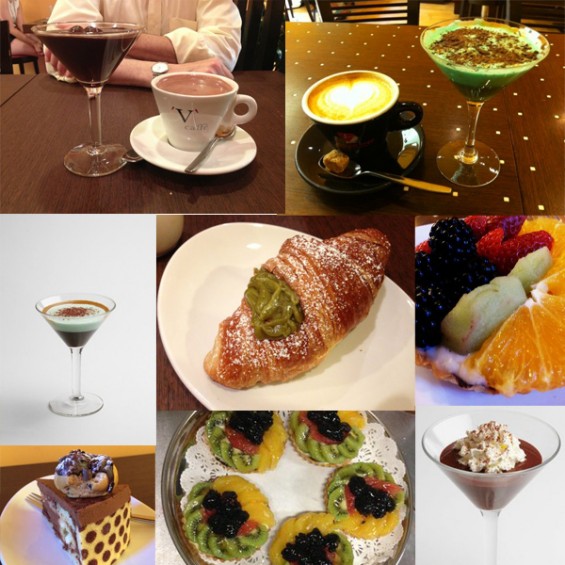 Pamplemousse Café in Redwood City
What I like: Pamplemousse is a Parisian style café with delicious desserts, sandwiches, and soups. They make beautiful and delicious cakes, pastries, croissants, and cookies. You should try the Mango Passion Fruit, Chocolate Mousse Cake, Noisette, Blackberry Mousse Cake, chocolate croissants, and Russian Tea Cookies. During the Christmas season, you should buy the Buche de Nöel. Pamplemousse's sandwitches are unique. If you try them just once you will develop a craving. My favorite sandwiches at Pamplemousse are Toasted Brie (which consists of Imported French Brie Cheese between Toasted Baguettes, served with a Belgium Endive Salad) and the Roasted Beet sandwich (which consists of Roasted & Marinated Beets, Goat Cheese, Arugula, Shallots, all on Walnut Bread). All the sandwiches come with divine salads. They are sprinkled with a green dressing that tastes like creme fraiche. Pamplemousse also serves delicious soups. Every day a different one is featured. I tried their Carrot Pure Soup, tomato soup, pumpkin soup and borsch – all of which were excellent!
The Downside: Unfortunately, Pamplemousse does not stay open late. So, they cannot solve your late-night cravings.
Pamplemousse Café Address: 2401 Broadway St Redwood City, CA 94063
Phone Number: (650) 599-9714
Pamplemousse Café Business Hours:
Monday-Saturday:7:00am-6:00pm
Sunday: 8:00am-5:00pm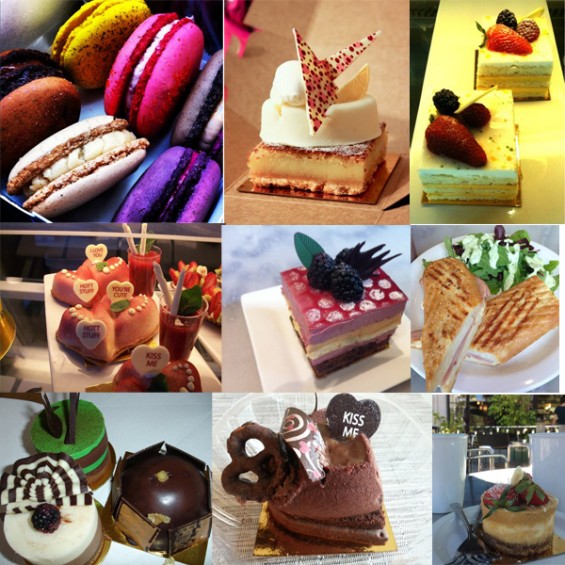 Cocohodo in Sunnyvale
What I like: Cocohodo is a Korean café that serves premium pastries filled with red bean and walnut. The pastries are even shaped like walnuts and individually wrapped for maximum cuteness. You can get 9 Cocohodo walnuts for $3.50. Not bad at all! For a drink, we suggest the plum tea.
The Downside: Don't order the shaved-ice. It looks cute, but only tastes ok.
Cocohodo Address: 1082 E El Camino Real, Ste 6, Sunnyvale, CA 94087
Phone Number: (408) 247-8877
Cocohodo Business Hours: 9am-10pm daily

Bijan Bakery & Café at Downtown San Jose
What I like: This is one of my favorite cake and pastries shops cafes in San Jose. They have a very cozy atmosphere in the evening; though it is a little crowded during the day. They have a great variety of mousse cakes. You should try their mango mousse, pistachio mousse, and chocolate hazelnut mouse. They also serve fruit and custard in cups made of chocolate. My husband loves them! Bijan Bakery & Café also makes custom cakes for special events and occasions. I ordered one once to eat in the shop with some friends. It was very good! The prices are pretty reasonable too. You can see more of their cake masterpieces on their Facebook page.
The Downside: There are usually seats available. But, they need to be more diligent about cleaning up after guests. We have had to clear up our own table at least once.
Bijan Bakery & Café Address: 170 S. Market St. Suite 110, San Jose, CA 95113
Phone number: 408.971.8000
Bijan Bakery & Café Business hours:
Monday-Thursday 6.30am-9.30 pm
Friday: 6:30 am – 11:00 pm
Saturday: 7:30 am – 11:00pm
Sunday: 8:00am -9.30 pm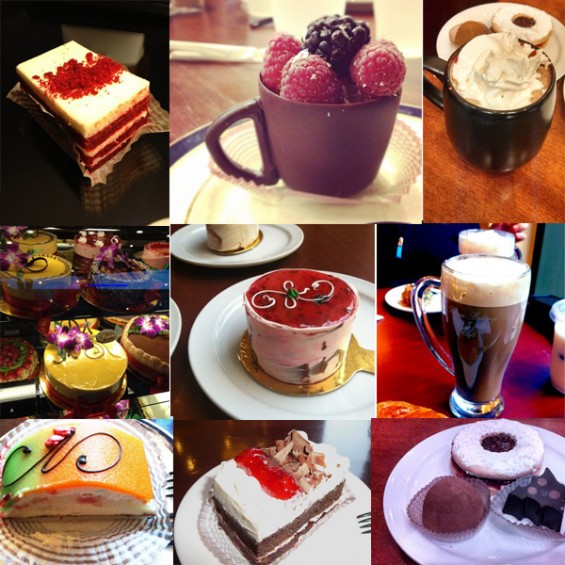 Lisa's Tea Treasures
What I like: Lisa's Tea Treasures is a beautiful English afternoon tea room with three locations in the Bay Area. It is very cozy place with Victorian interior design and dainty floral tea cups. This is an ideal venue for bridal showers. Lisa's Tea Treasures' decor is just perfect for bridal shower, baby shower, or birthday photoshoots. Their tea and English tea-sandwiches are delicious!
The Downside: I do not recommend the soup. The soup tasted like it was from the can and didn't fit the atmosphere. There are three Lisa's Tea Treasures locations in the Bay Area.
Lisa's Tea Treasures Locations
167 Main St Los Altos, CA 94022
Phone number: (650) 209-5010
377 Santana Row San Jose, CA 95128
Phone number: (408) 247-3613
1875 S Bascom Ave, Campbell, CA 95008
Phone number: (408) 371-7377
Lisa's Tea Treasures Business Hours
Monday-Friday 11am-4pm
Saturday 10am-6pm
Sunday 12am-5pm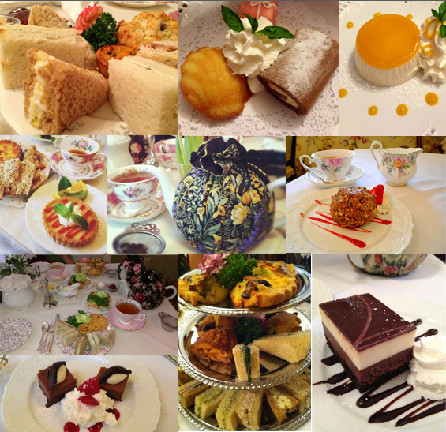 85°C Bakery Café
What I like: 85°C Bakery Café is a paradise for sweet breads and bubble drink lovers. You can find almost any imaginable bread there; just name it – Cream cheese bread, taro buns, blueberry muffins and more. Bread is constantly baked and you frequently hear: "Fresh bread!". The slogan shouted by employees when trays of hot bread from the oven come out to adoring fans! They also have beautiful cakes. While they taste a little bit different from what I am used to they are still very delicious. Their cakes are pretty inexpensive too, we paid $3.50 for a good piece of black forest cake. The same kind of cake in any other bakery will be not cheaper than $5-$7 a piece.
The Downside: it is super hard to find available seats. Customers also complain that there are no diper changing tables in the bathroom.
85°C Bakery Café Bay Area Location
De Anza Shopping Center 1183 S De Anza Blvd., Suit # 10 San Jose, CA 95129
Phone number:(408) 252-7885
85°C Bakery Café Business Hours
Monday-Thursday 7am-10pm
Friday-Saturday 7am-12am
Sunday 8am-10pm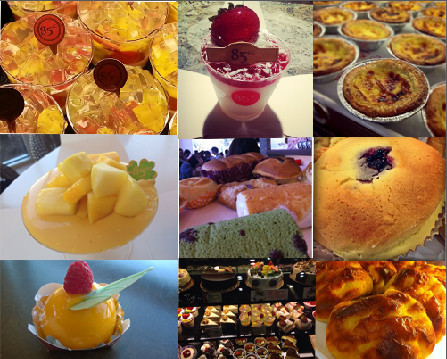 Posted on June 16, 2014By Sweetie